B2B Case Study Best Practices: Real Results & Happy Customers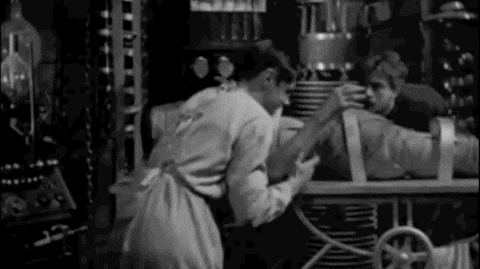 "It's alive! It's alive!" – Henry Frankenstein
History has given us many experiments and studies; often learning the hard way, colleges publish scientific papers regularly to prove or disprove hypotheses and theories – even Barack Obama wrote and published the most popular scientific paper of 2016. Within this type of content emerges real-life evidence of what worked, what didn't, and what falls in this gray area that needs further definition.
Within those scientific journals, a Case Study demonstrates the evidence behind the science. Essentially, it convinces a truth or new-found fact to the world. But here you are, reading this, wondering how scientific journals, Frankenstein, and Obama fall into your business scope. The answer to that question is this: a B2B Case Study can be just what your business needs to prove credibility, convince your prospect why your company is the best, and how it got there.
Indeed, people are more willing to believe what your business is selling if there's evidence behind it. After all, we are a knowledge-based society, and knowledge, my friend, is power.
Here are your B2B Case Study Best Practices, and how you can use this type of middle of the funnel content to put yourself on a pedestal and showcase your own success as a business.
But wait… What is a Case Study?
The BMJ Journal explains it as, "…a research methodology, typically seen in social and life sciences. There is no one definition of case study research. However, very simply… 'a case study can be defined as an intensive study about a person, a group of people or a unit, which is aimed to generalize over several units,'" but let's dive deeper into that concept, because writing a case study may come with a lot of questions, and this might be your company's first approach to research. A case study is an analysis of a real result your company achieved.
Some specific case study examples:
A case study interview; interview an existing client on how your product helped them achieve higher revenue

If you use a CRM, show findings and percentages on how your market grew or how you succeeded in implementing new tactics that helped that client succeed

Q&A on how you run your marketing or strategy operations

Case study control – have a group of people who didn't use your product and compare them to the ones who did. Leverage the great results to incentivize your prospect into needing your services to be better than the others.
These are just some of the case study ideas – get creative or leverage the brands you've used that have achieved a desired result thanks to your product or service.
Case Study Guidelines
Remember Frankenstein? How intriguing and exciting was it when the mad scientist finally created his 'monster'? As the audience watching the movie, or the reader turning the page, you felt a surge of energy and waited on the edge of your seat for what was going to happen next. Just like that, you want your Case Study to 'come alive,' and to not bore your reader.
Your potential customer reads dozens of emails a day. Give them a compelling reason to read what you've written, and the evidence to support your hypothesis. If you make it easy to digest, and simple to read, you've got a win. Save their time, and make it just long enough to be suspenseful, but also short and sweet. You can't go wrong with this marketing strategy.
Other Case Study Strategies: Problem – Action – Result
The advantages of a case study establish your leadership and expertise in your industry. It proves that you know what you're talking about, and gives your audience a reason to listen to what you're saying without brushing you off. As discussed in our B2B Whitepaper Best Practices blog post, creating a video of your Case Study is the way of the future.
Telling your story using this medium, and then sharing it on YouTube, lures your audience into watching something instead of spending time reading it. You can have your morning coffee while watching a 2-3 minute quip on a Case Study will deliver much better results than reading a long-format case study. Those scientific articles can be daunting, and not many of us have the time or energy to dissect a long piece of literature when trying to find a reputable service. Because video is the way of the future, it transcends the written Case Study, and resonates in your consumer's mind much longer. The results speak for themselves!
Fake News: Don't Lie to Your Prospects (They Can Tell)
To have customer success, it takes trust. A business B2B case study helps your prospect decipher what's real and what's not. You know how unreliable those deceptive weight loss ads are –  your case study needs to help your prospect navigate what's real. They help your reader or viewer process the information, and it not only makes you more credible but it makes you more likable.
In a society that prides itself on emotional warfare, create that sense of safety and security in your reader – this can only be done if you offer them a solution that has worked. A recent Think With Google article, "From Promotion to Emotion: Connecting B2B Customers to Brands," asserts that B2B buyers are even more emotional than B2C buyers because they have much more at stake. They're aiming to please many people, some of them in positions of power, and often, B2B purchases can represent millions of dollars in expense. Earning their trust can benefit your brand, and make them more likely to buy.
Before You Start Writing a Case Study
Creating a case study that demonstrates your company's results can make other businesses want to use your services. By making it lengthy enough to cover the study and show your actionable results, while keeping it short, you are able to convey what you offer, build credibility, and create an emotional dynamic between you and your reader.
With these B2B Case Study Best Practices, instead of a monster, as the mad scientist so eloquently put, you will have created, "a masterpiece" worthy of your time and your audience's attention.