B2B Conference Recap: SiriusDecisions Summit 2019
Or, Gidget Goes to SiriusDecisions Summit 2019
Cards on the table? I've never been to a B2B Marketing Conference before. So I wasn't entirely sure what to expect from the SiriusDecisions Summit in Austin, TX. Last week, a whole gaggle of LeadCrunchers descended on the Austin Convention Center to talk targeting and brush up on B2B best practices from people who have been there, done that, and have the scars and stories to show for it.
These events are HAWT guys.
Whether you're a conference newbie like me, or a seasoned pro, here's a few key takeaways from ATX that you can use to make your next B2B conference a big win with a measurable ROI.
Common Keynote > Coffee
No lie, they could have scheduled this keynote for 6:30AM rather than the totally reasonable 8:30AM time slot, and I still would have attended. Because Common is A LEGEND. Was it worth skipping my extra cup of morning coffee to snag a seat in the front row? Oh yeah.
But what I also appreciated was that, while he's incredibly accomplished (only a Tony away from being an EGOT!) he's also humble, inspiring and honest about the hard stuff. This wasn't a polished, PowerPoint, salesy presentation. A lot of the things he discussed didn't relate directly to B2B Marketing – he talked about the value of diversity in the workforce, how to lead with humanity in work and life, and how mindfulness retreats have improved the way his team works together. He also dropped in a couple mentions of his friendships with Kanye and Jay-Z and the lessons he's learned from witnessing their successes – and failures – up close.
I am vastly underselling how good this was. Go in-depth with this great write-up from the SiriusDecisions blog.
Conference Takeaway: Even if you're not a really big fan, or even familiar, with a keynote speaker, make an effort to attend anyway. Skip the extra coffee and hit the early keynote. You might be surprised. Inspiration is everywhere.
You won't catch every B2B Session or Networking Event you want to. Don't try.
Seriously. Case studies, track sessions, daily keynotes, networking events, lunch and learns, vendor booths, an early morning 5K – there's not enough of you to go around. If you can, be strategic with your team as to who will attend what. Even then, know that you still won't catch it all.
Most conferences share the presentation decks after the event so you can at least get a feel for the high-level view of the presentation. And if they don't make those materials available, you can always reach out to the presenters on LinkedIn or Twitter and ask them to share the content with you directly. They'll likely be happy to oblige.
Conference Takeaway: Hit as much as you can, since you'll learn a lot from every session and make some great contacts for future biz opportunities. You won't be able to implement everything you learn right away anyway, so take it in stride. See what you can. Get notes if you miss it.
Some people don't want to network
There are myriad reasons why people attend conferences. Some people are vendors, looking for quality leads for their software or consulting services. Some might be doing market research or wanting to gather information for a specific problem they're facing in their business. And some people may be there because their boss sent them, and hey it's a free trip.
While there are all sorts of networking skills you can use to kickstart a conversation, know that not everyone is going to want to talk. Conference attendees are also just people, and some people like speaking with strangers more than others.
Conference Takeaway: Don't be offended if the marketer at your lunch table doesn't want to chat. Maybe she's tired, preoccupied or just a quiet person who's hungry. I guarantee you there will be plenty of people who are genuinely excited to hear what you have to say – keep looking for them, keep swinging.
ABM is so hot right now
ABM, or account-based marketing, is having a big moment. Account-based marketing is the strategy of marketing to prospects or customer accounts as markets of one. Basically, highly customized marketing, designed to target prospects with a uniquely compelling message designed specifically for them.
With the rise of AI and the ability to better customize a prospect's experience – everything from how they navigate your website, to the ad messaging they view as they cruise the web, to custom chatbots – ABM suddenly becomes a really smart business play. Not all prospects are equal, not all accounts are equal. Some potential business accounts are more valuable than others, so it makes sense that you'd market to them – and prioritize them – differently.
There's another important factor at play. Over the past decade, enterprise-level companies have reduced – not grown – their work forces. Companies are expecting more work out of fewer people. And in this sense, ABM seems almost counter-intuitive. Wouldn't it require more marketing people to craft messaging for more audiences? Actually, not so.
ABM is about being more strategic with who you're messaging. You're not wasting resources messaging to people who aren't in the market for what you're selling.  And you're getting better results from the accounts you are targeting, because you're spending more time understanding their needs in order to improve your messaging to them.
Conference Takeaway: ABM is here to stay. And if you're looking to make better use of fewer resources, you should consider adding it to your marketing strategy, post haste.
Your competition will be there. Or competition-adjacent. Be cool, even if they're not.
B2B is a small world. You will absolutely run into reps from companies with a similar value prop. And they're attending, the same as you, to drum up new business opportunities. This is not high school. So drop the sarcasm and the side-eye. Just focus on selling what you do. Period.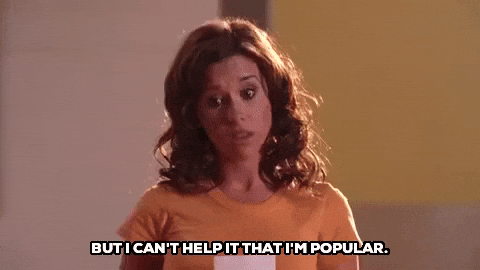 Conference Takeaway: Mean Girl-ing the competition is lame. Don't do it.
Don't Multitask, You'll Miss A Lot of Great B2B Information
Ask anyone who's ever worked with me and they'll tell you – I'm not a multi-tasker.  Odds are, you're not a productive multi-tasker either. Sorry, I don't make the rules. Here's the thing when it comes to multitasking at a B2B conference – while you're firing off emails, or browsing Yahoo!, or chatting with your neighbor about how you'd do A, B or C differently, you're missing a lot of hard-won information. It's also kind of rude.
It's also – and this is a big no-no however you slice it – costing your employer. They've spent a fair chunk of change to send you to the conference to learn processes and tips to help you perform better at what you do. If you're not getting those insights, that's not a great investment – for your boss, or you.
Conference Takeaway: set up an auto-responder so people who email you know that you're out of office and responses will be delayed. Silence your phone. And don't chat with your neighbor, because the girl on the other side of the table might genuinely need to learn as much as she can about B2B, like, STAT. Ahem.
The B2B Conference SWAG
Ok, so we're brushing off our shoulders a bit, because we had some great swag for visitors to our booth. We offered free professional headshots to all-comers (because that ten-year-old LinkedIn profile pic is looking a little worn, right?) and LeadCrunch-branded wireless earbuds. But we weren't the only ones with some serious swag game. I'm now the proud owner of 3 pairs of terrifically ugly conference socks (who knew that was a thing? I did not.) and a small foam shark. A few companies had self-published books on offer.
I may not yet be in the market for what the givers of socks and sharks have to offer, but I'm absolutely going to remember their brands if I happen to need their products or services going forward.
Conference Takeaway: Be generous with your branded swag – it could lead to future sales long after the conference is over.
Now it's your turn – what's your favorite B2B conference to attend every year? And what's your key takeaway to get the most out of the experience?